Where and when
San Vito lo Capo, Sicily at the end of December.
Weather
We had ideal weather conditions while there. It seems to be a gamble with rain, which can come an go at any moment, and we had expected to only be able to climb about half the days. However, we only had real rain for half of one day and the rock dries pretty much immediately, so we were able to climb every day we were there. Since getting to the rock takes almost no time (10 minute drive, 10-20 minute walk after that), you can just jump in the car as soon as the rain stops.
The "official" temperatures were between 13 and 17 °C, however the "experienced" temperatures varied widely. If it was cloudy and windy, then you wanted to climb with a sweatshirt and it felt 15 °C or colder. But in low wind and sun it felt closer to 30 °C and was definitely short and t-shirt weather (see the section below on rock conditions for why you may not want to do this anyway).
All and all, we couldn't have asked for more ideal climbing weather. It was surprising to us that we were basically the only ones climbing (a few days we saw a couple other groups, but mostly had the walls to ourselves). This really is an ideal place for end of December climbing.
Rock conditions
A lot of the rock is sharp! I mean seriously sharp. Like hard to hold sometimes, destroy your shoes and rope kind of sharp.
It's good quality rock in general. Limestone, mostly overhung. Friction varies a lot – some smooth sandy parts that your shoes don't want to stick to, and some super sharp rock that you worry will put a hole in your shoe. We didn't encounter any loose rocks or see any falling rocks. Helmet use among other climbers there was about 50/50. The book (see below) had some warnings about climbs with loose rocks, but we didn't climb any of those.
The rock did chew up the rubber on my shoes quite a bit. Something to keep in mind when deciding what to bring. You should definitely bring a tough rope!
Most of the bolts and anchors seemed to be good and safe. Only one climb had loose bolts. Wide variety of the types of bolts and anchors. We only did sport climbing (due to an injury) but there is supposed to be good trad climbing in the area as well.
The anchors were mostly of the kind where you don't need to untie to put the rope through them. I hadn't seen anchors like that before. They looked sort of like cork screws. A bit like this: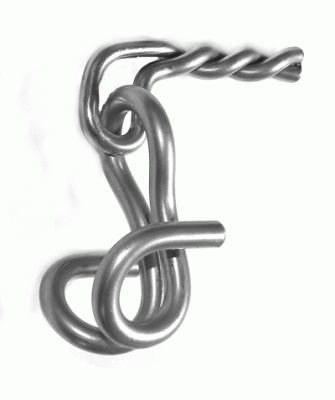 I know there are a lot of different opinions about this, but most of the climbs had the name painted directly on the rock which made it extra easy to locate them.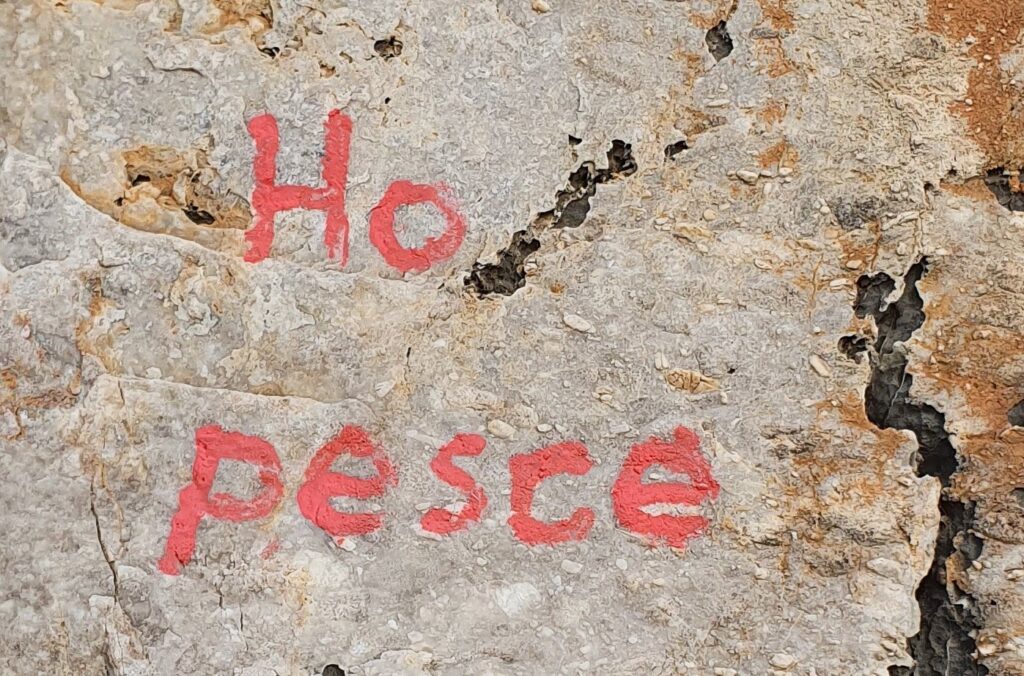 Gear
I bought two different books because I was unsure of what we needed, but we only used one: Sicily-Rock. Great book, easy to find the climbs, great descriptions, all the information was accurate, including how many quickdraws you need for each climb. It seems they may be coming out with a new edition soon, so check for that one when you go.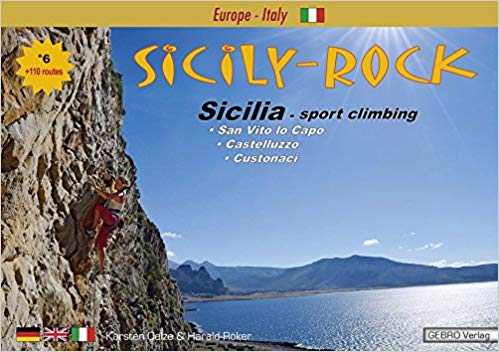 I recommend at least a 70 m rope. That will allow you to do most of the climbs. We brought a new 80 m Mammut Infinity Dry, which let us easily do all the climbs there. This rope was fantastic. It took some serious abuse on the sharp rocks, but sill looks almost new with barely a mark on it. But definitely bring a tough rope! I'm not kidding when I say the rock is sharp.
The longest climb we did required 17 quickdraws (38 m), I don't think you'll ever need more than that, though it's always good to have a few extra "just in case". Most of the routes were fairly direct, so there wasn't much rope drag. I do recommend bringing a few alpine draws for some of the more twisty climbs though.
Animal life
There was almost no wild animal life at all – including no insects! Like none. I saw one single ant one time. One fly once. Nothing else. The lack of mosquitoes was a dream.
There are supposed to be vipers on Sicily, but people rarely see them and I imagine even less so in winter. We saw no sign of snakes. We did see a lot of lizards, which was pretty much the only wild animal life we saw aside from some birds.
We did see a lot of domestic sheep though. More of an issue is the sheep shit – there is sheep shit everywhere. Bring a rope to keep your rope from being covered in sheep shit, but you will need to sanitize your rope bag when you get back. And your shoes. And most everything else. Some places there is more sheep sheet than dirt on the ground. On the last day we realized why this is a self-perpetuating cycle. The sheep come up to the base of the climbs every evening "cleaning up" after the climbers.
But aside from sheep shit, it's fantastically free of the normal range of animal dangerous and irritants.
Transportation
I recommend flying in to Palermo. We flew into Cantania and rented a car at the airport. That worked out fine, but added a few extra hours of driving each way. The roads from Catania to San Vito lo Capo are all good and avoid the toll roads. There was a bit of road construction, and supposedly hidden speed cameras (I may be in for a nasty surprise in the mail later), but the driving was easy and there were plenty of gas stations along the way if you need to use the toilet or grab something to eat. Look out for the "Autogrill" signs if you want something more than just snacks. These usually have uninspiring but filling sandwiches.
We rented a car at the airport from Sicily by Car. They were the cheapest place we could find. I ended up reading a lot of scary warnings about them online, but ended up taking a chance. I did go through Auto Europe which felt a bit better. They have great customer service and were really helpful. Sicily by Car has non-existent customer service and were quite horrible to deal with. The rental office was a short walk from the terminal, but even though we had a prepaid reservation for a car we still had to wait in line for 90 minutes before getting any help. A warning if you rent from them or a similar place: you need a proper credit card and not a debit card to be able to rent unless you get the full insurance (which is insanely expensive). We ended up getting the insurance covering damage to the body of the car, but not for the windows or tires. That was the "felt safe" compromise we made. If you rent from a place like this, go over care in detail, inside and out, before you leave the lot. I mean in careful detail. Make sure they write up any marks or problems directly on your contract before you take the car off the lot. We found a lot of unmarked problems and made sure they were all included on the contract. There are a few gas stations close to airport to fill up the tank when you return it. In the end, we didn't have any problems with the car.
If you don't mind walking an extra 20 to 30 minutes to get to the climbs, you don't actually need a car in San Vito lo Capo – but I have no idea how to get there without a car. There may be public transportation, but I can't help with that. Having a car was convenient, but all the climbs were at most a 10 minute drive from where we stayed and if we were motivated we could have walked to all of them.
Where to stay
San Vito lo Capo is a summer tourist village. It is a serious ghost town in the winter. Like to a creepy degree. You hardly see any humans anywhere. Everything is closed and boarded up. This includes most if not all hotels there. However, there are a number of really nice places through Airbnb for a good price in the winter (and they are quite happy to get the extra guests off-season). We had a wonderful place for a great price for just the two of us. There was an extra bedroom we never went in and a pull out sofa, so you could actually sleep up to six people easily there. Considering we thought it was a good deal for the two of us, it would be insanely cheap for six people.
View from our balcony where we ate breakfast every morning: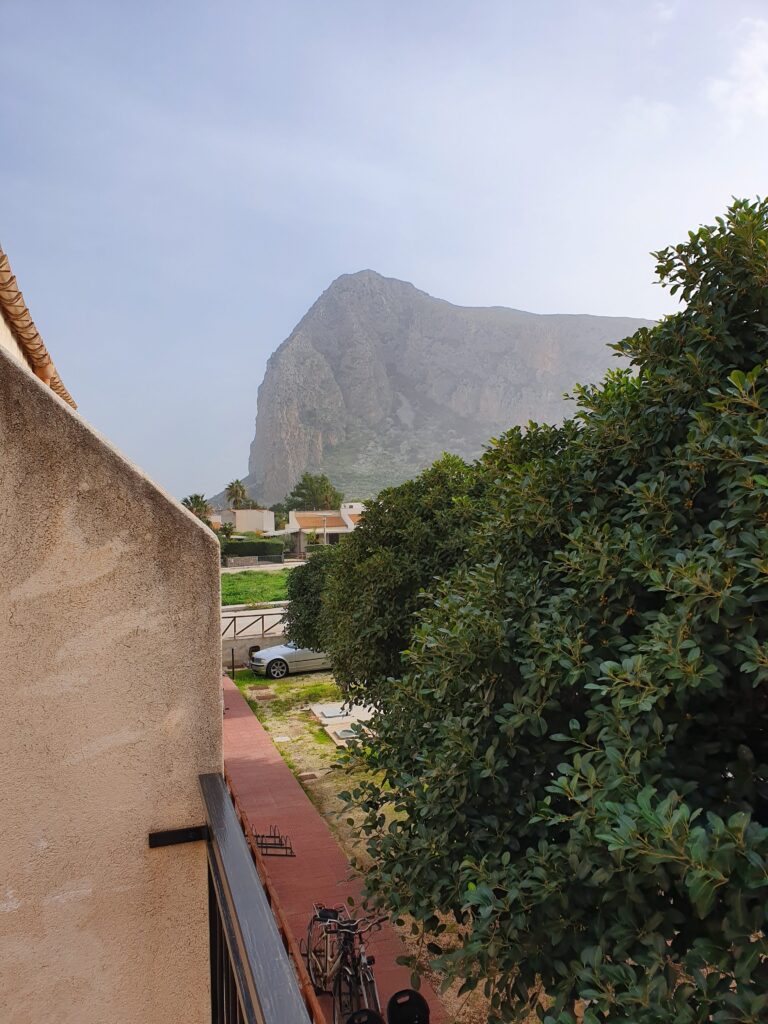 Where to eat
As already mentioned, the city is a ghost town this time of year. That means almost all the restaurants are closed. We tried two of them, but mostly bought food at the local supermarkets and cooked at home.
The first night we got in late and were tired and so went to the only place we could find, which was a pizzeria that was closing. The owners were super nice and opened back up for us and the pizza was quite good. I highly recommend them for the kind extra service and the good pizza:
The other restaurant we tried was Disio. Do not eat there! The food and service were terrible and the prices high. I mean really terrible. Annika couldn't manage more than two bites of her dish, which looked even more unappetizing than it tasted. A major waste of money and time.
There are two supermarkets and a few small bakeries we went to frequently. The smaller supermarket in the middle of town was by far the best. Lots of good fund stuff to buy and eat and make at home. They even have a nice deli section with people who are happy to recommend products:
The bigger supermarket was less inspiring, but was on the way to climbing so we ended up there a lot by default. The other one really is much better though:
Note that pretty much no ones speaks any English anywhere. Young as well as old. If you don't know much about Sicilian cheese I can heartily recommend piacentinu. So good!
The tap water is drinkable but nasty tasting. Bottled water is super cheap, so I recommend stocking up from the supermarket. Oh, and if you don't know, ordering a "coffee" in Italy gets you an espresso. Don't order an espresso. Don't bother trying to get a "normal" cup of coffee. And all the signs you see for "bars" are actually for places to drink coffee. Really good coffee.
What we climbed
Due to an untimely hand injury, we were a bit limited in what we could climb, but here is a list of the routes we did:
| Climbs | | | Area | Comments |
| --- | --- | --- | --- | --- |
| Für Irene | 5c | 25m | Irenes Garden | Boring |
| Maria | 5b | 19m | Campo Base | Quite okay |
| Elisa | 5c | 16m | Campo Base | Quite okay |
| Nini | 5c | 25m | Campo Base | Quite okay |
| Happy Cleaning | 5c | 35m | Karsten Oleze Memorial Wall | Super fun! Only climb we did twice. |
| Niki Borsellino Singer | 6a | 28m | Karsten Oleze Memorial Wall | Super fun! |
| Ho Pesce | 5c+ | 28m | Karsten Oleze Memorial Wall | Super fun! |
| Wunschonzert | 5c+ | 28m | Fakiros Wall | Nice layback at the top. Nice climb. |
| Tinas Praline | 5c | 28m | Fakiros Wall | Fun, but a scary overhang on lead. |
| La Formica | 5b | 28m | Fakiros Wall | Fun but a tricky end. Follow the advice in the book. |
| Ciao Cesko | 5c | 27m | Fakiros Wall | Fun climb. |
| Nives Rosa Tiss | 5b | 25m | Fakiros Wall | Quite okay |
| Ildefonso | 5c | 30m | Fakiros Wall | Scary on lead. Overhanging layback with bad holds. But fun otherwise. |
| Pilastrino | 5c+ | 18m | Bunker | Quite okay |
| Colazione Piú | 5b | 26m | Bunker | Great 5b! Really fun. |
| Kaktus | 5b | 12m | Bunker | Terrible climb. Avoid. |
| Arrivederci Ingrid | 5c+ | 30m | Bunker | Fun! |
| Il Ritorno | 5c | 25m | Bunker | Fun! |
| Via Kuchenclub | 5b | 22m | Bunker | Okay |
| Vai a Sinistra | 5a | 18m | Bunker | Okay |
| Fessurina | 5c | 20m | Bunker | Okay |
| Happy Ötzis | 5c+ | 20m | Bunker | Fun! |
| Il Nonno | 5c | 18m | Bunker | |
| La Nonna | 5b | 16m | Bunker | Fun! |
| La Femmina | 5b | 22m | Bunker | Fun! |
| Per Giorgio il Mio Amico | 6a | 22m | Bunker | Fun! |
| Für Christian | 5c | 28m | Bunker | Fun! |
| Noja | 5c | 15m | Canalino Destra | Boring |
| Micky | 5a | 15m | Canalino Destra | Boring. Loose bolts. |
| Erik G. | 5c+ | 38m | Seagull Centrale | Sharp and a lot of rope drag |